40 North Dance Film Festival
Celebrating its second year, the 40 North Dance Film Festival kicked off in San Diego with three events spanning the course of a week. The opening night included a screening of select short films and a return to their original home at Liberty Station. During the week, the festival organizers partnered up with the Museum of Photographic Arts to screen the award-winning Ma by Celia Rowlson-Hall for its San Diego premiere. The film is a wordless depiction of the journey of Mother Mary set against the backdrop modern day Americana. The film made its worldwide debut at the Venice Film Festival and received the Audience Award during its U.S. premiere at the AFI Film Festival. The festival closed with a second screening of short films at open-air space Art Produce in North Park with biergarten provided by ChuckAlek, taking full advantage of the mid-October heat in the beautiful outdoor setting.
While many festivals are organized by larger film-focused groups in various cities, the champions of 40 North Dance Film Fest come from the world of dance. Chelsea Zeffiro, a classically-trained contemporary dance artist, and Rebecca Correia, a freelance dancer who began her career at the Boston Ballet School & Company, co-founded dance media production company Borderland. Blythe Barton, owner of Blythe Barton Dance where Zeffiro is a dancer, is also a key team member. Photographer and cinematographer Sam Zauscher rounds out the team and produces projects with Borderland. We chat with each about their roles creating the festival, their history with dance as a medium, and which films from this year's selections resonated with them the most.
What was your first exposure to the world of dance?
CZ: I first start dance lessons at the age of three. I studied many different styles but eventually studied mainly classical ballet until I went to school in New York City and became exposed to modern and postmodern dance. The first time I can remember seeing a dancefilm (made solely for dance and not as a commercial or music video) was Amelia by filmmaker Edouard Lock and Canadian dance company, La La La Human Steps.
BB: I have been a dancer as long as I can remember and a choreographer since I was 18. Over the past 15 years, I have explored creating movement that is physically exciting and visually inspiring. More recently, my exploration of filmmaking has added a complex layer to creating dance, using the camera as an additional layer of choreography to direct the audience's eye to specific actions that motivate a narrative. My company, Blythe Barton Dance, is in its sixth year of performing in Southern California.
RC: Film and dance have always been a big part of my life. Growing up, I started as an actress so I was accustom to being in front of a camera. My parents also exposed me to dance. I quickly caught the "ballet bug" and devoted my life to dance and put film to the side. As an adult, film re-entered my life both on the production and performance end. It helped me rediscover dance and performance in a different way. Instead of focusing on performing with an audience present and in a static environment, it allowed me to discover how my movement can affect the environment around me and how that can be captured on film. It became more of an internal journey rather than an extroverted performance.
What is your personal history with two of the art forms showcased, choreography and filmmaking?
CZ: After spending a year in NYC studying dance, I chose to transfer to USC and take a break from dancing. From my time at USC, I had an internship in pre-production at Warner Brothers and a growing interest in film. I volunteered to work on my peers' video shoots, taking different roles in production while slowly getting back into dance – freelancing and teaching. After graduating, I worked frequently with one of my former classmates-now-photographer/filmmaker, Sinziana Velicescu, on different projects of hers and it soon lead into us experimenting with filming dance in different environments for the company she produces content for, Standard Vision LA. Meanwhile, a childhood friend-turned-dance colleague of mine, Rebecca Correia, and I had begun an ongoing dance documentary project, Take Your Place, wherein we travelled to different dance companies who had contributed to making dance relevant.
Between dancing for Velicescu, SVLA, and filming the documentary project with Correia and cinematographer, Rohan Ali, I became more and more aware that there were boundless possibilities in filming dance. All of the things we filmed at first were either improvisational movement in front of a camera or choreography for stage. I think that each time we filmed something and edited it, we saw things that appeared more interesting on screen than what we thought was interesting live.
One of the first dances Velicescu filmed that was choreographed for camera and that she had rehearsed camera choreography for was a duet between myself and Nicholas Strasburg (Blythe Barton Dance), choreographed by festival co-creator Blythe Barton and costumed by Vivian Chan. That was the first time we had a more highly produced dancefilm and it was screened in segments on Standard Vision's large LED screen in DTLA at LA Live in May, 2014. Shortly after that project wrapped, Blythe and I wanted a forum to showcase dancefilm. Creating a dancefilm festival was something that Correia and I had discussed throughout production on Take Your Place and Sam Zauscher, a photographer/event designer (who also grew up dancing with Correia and myself) had been involved in the design and branding of Take Your Place and was very excited at the possibility of creating a dancefilm festival. So the four of us (Barton, Correia, Zauscher and myself) – all based in San Diego at the time – decided to create 40 NORTH Dance Film Fest.
SZ: Choreography was always the profession I saw and planned for myself to end up in. It wasn't until I retired from full-time dance and began work in photography and partially filmmaking that it became clear that film (and dance on camera in general) was the stage I always had access to, right in front of me. The traditional theater/live-performance experience is a wonderful venue for many circumstances, but audiences are changing and the democratization and availability of image capture gear is revolutionizing the entire creative industry in an amazing way. I absolutely consider my current work (Society House Studio) visual choreography. Whether motion or stills, curated or candid, choreography and filmmaking are to me now fused together in a way I couldn't be more thrilled about.
How does choreography for film differ from choreography for the stage?
CZ: I certainly wasn't an expert when Barton, Velicescu and I did that first choreographed dance for camera – I still don't believe I'm an expert – but that film was a catalyst for examining dancefilm further. Throughout the course of the festival, I've come to see the frame of a camera or screen as very similar to a stage but with very different properties and qualities. I believe that there's more of a graphic element to film than live performance. Removing dance from the theater and reframing it with a camera, you can have more possibilities in framing exactly what someone sees and the way they see it. In live performance, this framing is the responsibility of the director, lighting designer, and/or dramaturge, whereas in dancefilm or choreography for camera it becomes largely the responsibility of the cinematographer and the editor. I think the most successful dancefilms happen when the choreographer, dancer(s), director, cinematographer and editor can all communicate, collaborate and work toward the same vision. Also with a film, unlike stage performance, one can see the same body magnified and minimized, you can see a figure in slow motion or sped up, the set can be natural or constructed, exterior or interior and it could vacillate between all of that. So there is a lot at a dance-filmmaker's disposal but also a lot to choose from when focusing the dance for camera to create a concise story.
This is your second year of 40 North, where you received 106 film submissions from 19 different countries. When you set out to do the festival for the first time last year, did you previously know many artists in the dance-film community or were you hoping that by doing this you could help foster a community together? What was your motivation behind creating this festival?
CZ: I didn't know many people that were making dancefilms consistently. I knew just a few of my colleagues in dance who experimented frequently with filming their movement in different stylized environments, but I didn't know many people who had collaborated with filmmakers. I did really want to foster a community together. Up until the festival, I had met a lot of dancers and dance makers who had such amazing visual and stylistic inclinations but didn't have a background in film. I really wanted to be able to foster that relationship between filmmakers and dance artists. I believe that dance artists have a lot of relevant and poignant things to share in very unique ways; and through film, the potential for audience/viewers can be much higher than with live performance. Mostly, I believed that dancefilm was really necessary and important to making dance relevant today and expanding the dance audience.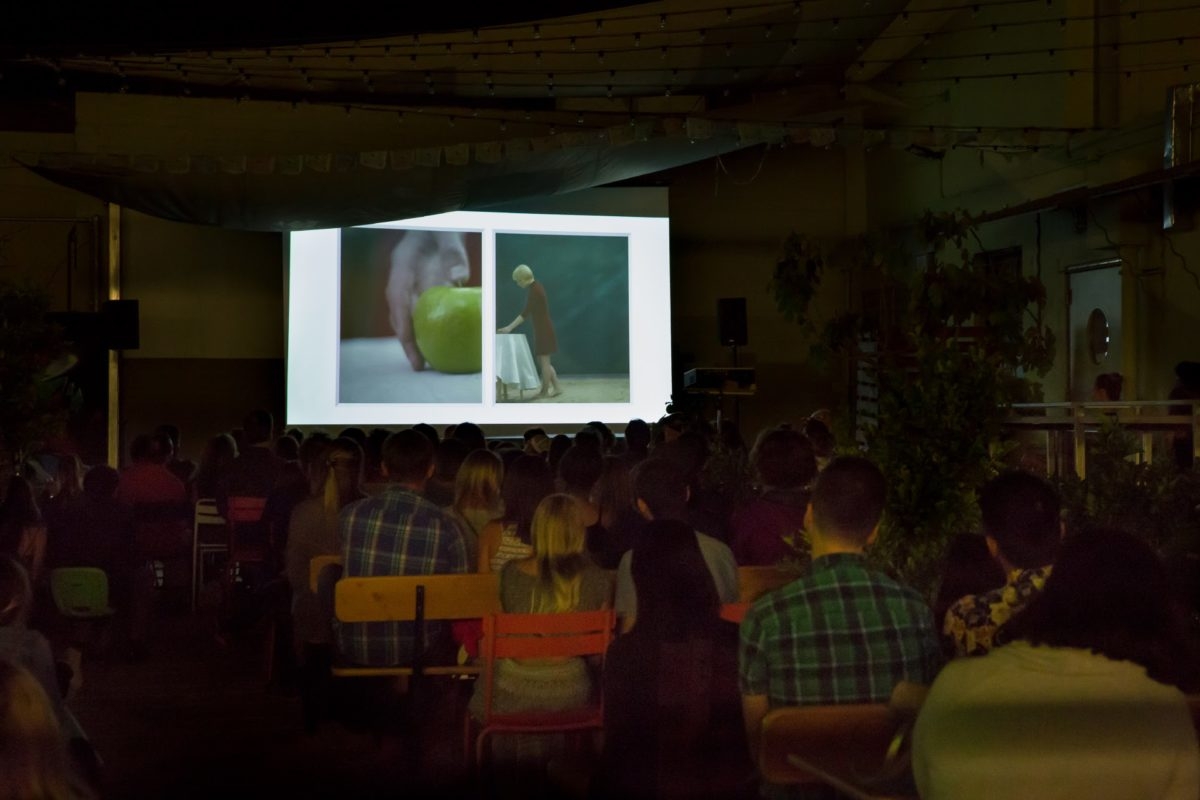 What responsibilities did each of the organizers take on? What were some of the challenges you didn't expect and how did you overcome them?
CZ: [We] tried to tackle different elements that made the most sense with our individual backgrounds. Sam and I work on the design and visual themes of the festival. Rebecca handles community communication and sponsors. Blythe has a lot of outreach in the educational community and a lot of experience with on-site production and is integral to putting on the actual event and community reach. We all share in communication and choosing the films. We speak frequently at our meetings about what makes a dancefilm interesting and what technological and creative advancements are contributing to the growth of this sub-genre. Our festival doubling in size was met with our team becoming more remote. Barton gave birth just before opening for submissions and Correia moved to NYC. This actually made each time we worked together more efficient, but I think we're ready to expand the team for the third year.
BB: Because of my experience producing dance concert for Blythe Barton Dance, my responsibilities fall mostly in the spectrum of production. The challenge for me was finding the marketing language to entice and inform the dance audiences to see something that may be outside of their usual patronage. Dance film is a new experience for many dance lovers and we hope that they will be as inspired as we are of this emerging art form.
SZ: Though part of a small team with a lot of role and responsibility sharing/interchange, my experience with visual identity/design, marketing, management, and event production helped round out the team.
RC: We are a small team with a big vision of where we want the festival to go. We all take on various roles at different times to make the film festival happen. I moved to New York while we were putting together our 2016 festival which created the challenge of working remote from the team. There was a period of adjustment but despite the big change the festival came together and was a success. I think it's a testament to how strong of a team we are!
What are your favorite dance-centered films? What makes each stand out?
CZ: The first dance films that I saw which had a lasting impression on me were: Amelia by La La La Human Steps, Rosas Danst Rosas by Anne Teresa De Keersmaeker and One Flat Thing, Reproduced by William Forsythe and filmmaker Thierry De Mey.
Amelia plays with space, light and time nicely. I haven't returned to this film to analyze it. I simply remember being completely enthralled by it and wanting to make something like this one day – using video, going outside of a proscenium setting and playing with contemporary choreography to create something that brings dance into our society's present realm of viewing movement and visual language.
Rosas Danst Rosas really highlights the graphic quality a dance for camera can feature as it uses repetition, a structured placement of the dancers and vacillates between dancers moving in precise unison and breaking that pattern.
One Flat Thing, Reproduced is a great example of an already choreographed dance being interpreted with a camera through different shots and camera movements. I think this was an excellent example for future dance-filmmakers to refer to for impactful ways to shoot movement. I love also that online you can see the flat version from one static angle, head on as you might see it through the lens of a videographer as well as the dancefilm version that makes use of cinematic techniques.
Which films showcased in the festival resonated with you the most?
CZ: From this festival, I love all the films! Some of my personal stand-out films are Ceiling, Tailored, Color of Reality [seen above], Interlude, Move On, and of course Ma by Celia Rowlson-Hall.
Ceiling is an example of a study in movement, technical filmmaking and color. Though the colors are vibrant, they're shooting on a Phantom camera and they have vast setting to explore, the simplicity in the movement and framing shines. The film is accompanied by a contrasting and complex piece of music and all of those aspects work together to make a piece that is focused, cohesive and entrancing.
Tailored, Color of Reality and Interlude are excellent examples of short dance films which carry a strong narrative with no spoken dialogue. I think this is a huge feat as it's very hard to tell a full story in such a short length of time when you have so many visual tools. The filmmaker really has to be concise and specific and let the visual and physical language come through in the most effective and efficient way, remaining true to their story and their themes.
Move On is a great example of choreography for camera, where the director, dancer, choreographer and editor were all on the same page and it's clear that they had done an incredible job researching, storyboarding and planning the specific locations, cues and timing of the production.
Ma is incredible to me because it is the first feature length dance film that is not a musical which is has gotten such amazing reception from the film community. I was amazed at our audience's response, which was that they remained focused on the film through its entirety though there was no spoken dialogue. Cinematographically, it was captivating and Celia Rowlson-Hall choreographed and directed it so smartly. A few members of the audience commented that they would have liked it to be more dance heavy, but I think it was the perfect amount of physical theater, tableau vivant and dance for camera. The editing, cinematography, choreography and physical theater remains true to telling the story that drives the film – in my opinion, it doesn't indulge in any unnecessary aspects. In that way, Rowlson-Hall was able to tell a story with a complex character, using only physical and visual language in an effective way which held a viewer's attention.
SZ: This Is Not Magritte had incredibly clever art direction and found a beautifully unique way to mix dance film and one of my most favorite artist's work together all in under a few minutes.
RC: There were so many great films that stood out to me! I think my favorite was Trip the Light Fantastic, a clay animation film by Hannah Darrah (Rosie Herrera Dance Theatre) that was very innovative and uplifting.
How do the preparations of a dancer and filmmaker differentiate and parallel?
CZ: I think for the dancer, if they're dancing on film they will want to familiarize their body to the environment they'll be working in. On film just as on stage, it reads when a dancer is unsure of the environment but on film you can have close ups, so it is important for the dancer to go into a state which is highly focused, sensually attuned and perceptive to the intricacies of their setting. That awareness in perception can lead to and influence beautiful and unexpected movement which film can capture.
For a filmmaker, it's very similar. I think a filmmaker has to prepare for a film by studying the environment in which they're filming. They will want to know what different frames look like, what affects different lighting can give, how the composition varies with different types of movement and how many varied frames or shots they want to capture to be able to move the story along without losing a viewer's attention. For example, you can only expect to hold a viewer's attention for so long using one focal length. The filmmaker would want to study the movement and the environment and use those factors in making a choice of lenses and shots.
In the short film Move On, a dancer is transformed into various settings: a subway, bodega, the city streets. Where can the power of dance take us, both as performers and as an audience?
CZ: Dance, as with other art forms, has the power to captivate and provide a shared experience for its viewers. Something very slight or minute in a performance can convey shared human experiences and produce empathy. Because dance is centered in the human body, it can be incredibly off-putting for people especially as we have been conditioned to be increasingly desensitized to our physical perception of the world. However, dance is quite sensual and I believe that by watching or engaging in movement, one can identify with the body and with the physical world and experience a profound sense of freedom. I also believe that this non-verbal language can hold more weight and communicative power than words at times. Ultimately, a dancer or the act of dancing conveys a feeling of being limitless or breaking limits which, coupled with its power to induce a greater empathetic understanding, allows the power of dance to transport us – the viewer and/or the audience – anywhere imaginable... it's infinite.
RC: I think the performing arts is the closest thing we have to time travel and transcending our physical selves. Performing arts, when captured and done well, can transport us to the past and the future while also forcing the audience and performer to be completely present in the moment. Performing arts allows all involved to be vulnerable and creates an environment that's transformative. I think it's one of the most powerful forms of communication we have and can promote so much change.
SZ: As a dancer, the power of dance, whether watching or engaging in it, is immediate and all encompassing. It's powerfully moving, both physically, mentally and emotionally, toward whatever the inspiration is. For the audience members in a dance experience (film or performance), and especially those who may not share a physical sympathy to the dancers giving the performance, I think dance film's most powerful asset is an emotional or intellectual push towards a film's intended vision.
What thread, if any, do you feel ties the films together into a cohesive unit?
CZ: I think that this year, we have films which are all very explorative wherein the filmmakers used the techniques, technologies and visual art collaborations to go beyond dance alone. I think this shows that dance may be coming into (or be already in) a new era where dancemakers are pushing to make relevant their artform and filmmakers, musicians and visual artists are working with dance artists to create collaborative works. Collaborations have always been happening, but the amount of highly collaborative films we received this year is exciting. It's not just the highly funded artists or companies making these works, it is individuals who are taking it upon themselves to reach out to other artists and create their vision. That is really exciting to see and be a part of.
BB: The thread has two strands, movement and film. Beyond that we strove to select films that would create a diverse program: different dance genres, different dance cultures, different dance bodies, different dance locations.
In Take Your Place, your team documented dance studios in various cities. How often did the subject of moving dance into different mediums come up between the different companies, if at all?
CZ: We started this project in 2014 (Correia and myself) trying to find answers to the question: What place does dance have in our world? It wasn't until this past Spring (2016) that we started being able to see our research clearly. This past March and April, we were able to continue production on Take Your Place in Europe, where we saw a really high level of collaboration and integration between and across mediums. Along with having more funding available for movement and theatrical research, the dance artists we met and interviewed in Europe were fearless in their explorations. A big theme that came up over and over again was not being afraid to fail and being process-oriented. This meant that they prioritized exploration over product. This open spirit really fostered collaboration across mediums because it allowed for the time to learn, explore and not be focused on perfectionism or an end-goal. I find that when there is time and resources available to have this exploration, the product becomes apparent eventually and is very poignant as it incorporates multiple domains of expression and communication. In America it is hard to have enough financial stability to allow for exploration in a process although, there are some really interesting dance makers who have ended up in Los Angeles who are making work from this collaborative and open place. I am really excited to see how the dance world in LA develops over time.
How did your showcase feature film, Ma, encapsulate the feeling of your second year?
CZ: "Ma" was an incredible film for us to be able to showcase this year because it successfully does what a dancefilm should be able to do which is reimagining the stage as a frame, the stage director and/or dramaturge as the cinematographer and editor. Although it has dance and movement in it, it does not rely on grandiose, sweeping dance to show this; it allows a viewer to see dance in the corners of a frame, in a gesture, in fingertips, in the lines and patterns of buildings and shadows, in facial expressions, in the relationship of one still body to another, in the mundane more or less. I think that is an important statement that has been a goal of the festival since it began: in how many places, and in how many ways can we find dance?
In our first year, one of my favorite films submitted was lullaby by physical theater artist Aurora Lagattuta which simply showed (from an aerial shot) a body floating across a barge in one direction as a ship passed in the other direction over the course of about two minutes. It was minimal and powerful, excellently framed. The dance was in the slow movement of the body, the vast motion of the ship, the ripples of the water and the lightness of a floating umbrella. I can feel the density of these different elements by watching this film. This will always be one of my favorite dancefilms.
Tell us one story from the duration of the festival run that caught you by surprise.
CZ: Color of Reality went viral right as we were programming the festival and I assumed that I would have little to no communication with their production team, but it was quite the opposite. Producer Kalie Acheson and movement artist Jon Boogz reached out and communicated throughout the entire process and made it very clear that they wanted to support the festival in any way they could. Getting that kind of affirmation and support from both Kalie and Jon (Kalie involved heavily in art direction and production with her company Animi, and Jon, who works on the Michael Jackson Cirque du Soleil, other highly visible media projects and is in the middle of developing his organization, M.A.I.) was inspiring and encouraging. Jon checked in via phone a number of times, did a Skype interview with us and kept reminding me that the festival was an important forum for dance and movement artists. Kalie Acheson and Charles Latham, of Animi (production company), came down to accept an award for the film and gave a really nice talk-back with the audience. It was really meaningful to have such inspiring and talented people championing the festival this year.
SZ: Something I love about our festival is that we take the time to produce and create a dance film ourselves as part of the festival launch each year to both promote and encourage the genre of dance film. Filmed and edited far in advance of launching the open film submission period, a good number of the 2016 official selections (also filmed and completed previous to the launch of our own film) ended up complimenting each other so beautifully — and almost perfectly — on a large number of themes and visual elements. It was a moment of pure serendipity while enjoying the screenings this year.
What do you have coming up next in the pipeline?
CZ: As far as the festival goes, Standard Vision Los Angeles presented three cinematography awards this year and is going to showcase 40 NORTH by screening excerpts from these award winning films throughout the month of December on their 50x20 ft. media facade in DTLA at LA Live. We're also looking to expand our team (hopefully adding a producer) as the festival itself doubled in size. Lastly, we are hoping to organize an outreach/residency program in the next few months so that we can accept film proposals from local dance artists and filmmakers to be able to provide them with the necessary resources to produce their film for next year's festival.
I'm personally looking forward to getting back to performing as I took some downtime to be able to work on the festival. I'll be starting rehearsals for new work by Blythe Barton (festival co-creator), continuing work on a multi-channel video dance installation, California Living Project in Silicon Valley with visual artist Nate Page and cinematographer Velicescu, and I'll be working on the editing of what we filmed in Europe for Take Your Place and hopefully showcasing it as a work in progress by early 2017 at a dance festival in Montana.
I would really like to take a touring program of the festival to Europe though. Maybe this can happen just in time for 2017 submissions to open.